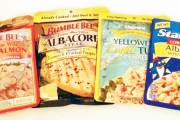 Posted on 22. Jan, 2012 by Healthy Girl in Food Finds
Drypacks are a great resource for your Advocare Eating Plan.  You can chose from a variety of tunas and salmon.  We like the tuna filet marinated in lemon pepper.  It can be microwaved and eaten warm.  The great thing about drypacks is that you can always have them on hand as they have a really long shelf life.  You can take them with you, and there is a lot less mess than using a can of tuna that needs to be drained.
When we first started with the 24 Day Challenge, it was hard for us to consider eating tuna or salmon plain, since we were used to a higher fat and richer diet.  At that time, we created this recipe which many people that we coach enjoy.  The canola mayo is half the calories of regular, and we would only use a tiny amount.  We now rarely use it – that just goes to show how your tastes change when eating really healthy.