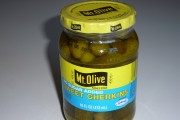 Posted on 30. May, 2010 by Healthy Girl in Food Finds
This food find  was amazing.  Sweet midget pickles sweetened with Splenda!  Here is my recipe for a cool summer dinner when it is really hot out.  Super easy and works for both phases (10 Day Cleanse and 14 Day MNS) of the 24 Day Program.  The pickles give this excellent flavor.
Favorite Tuna/Egg Salad Dinner
3 small packages of dry tuna (light in water has best flavor)
2 hard boiled eggs, chopped
chopped celery
6 sweet gherkin pickles (Splenda variety), chopped very fine
Dijionaise mustard
Hellman's Canola Mayo
Cucumbers
Tomatoes
Baby lettuce or spinach
Mix the first 6 ingredients in a large bowl.
On each plate put sliced cucumbers, tomatoes, and a small amount of baby lettuce or spinach.  Place a scoop (or 2) of the tuna/egg mixture on the lettuce.
Serve with a bowl of fresh berries and melon.
Serves 4
This recipe is acceptable for all phases of 24 Day Challenge.