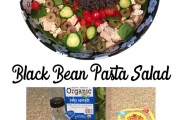 Posted on 27. May, 2016 by Healthy Girl in Food Finds, Recipes
A recent trip to Trader Joe's produced a new item that inspired this easy, refreshing dinner salad.  They have a new organic rotini pasta which is made from only black beans.  This is a great last minute meal with minimal preparation and clean-up.
Ingredients:
1/2 bag black bean rotini
1 large boneless, plain, grilled chicken breast (about8 oz.), diced
Baby spinach
4 baby cucumbers, sliced
1 large red pepper, diced
1 cup grape tomatoes cut in half
1/2 cup pitted green olives with Sicilian(Italian) spices, sliced
Walden Farms Calorie Free Italian Sun-dried Tomato Salad Dressing
---
Bring salted water to a boil in a large pot.  Add the rotini and cook for 7-8 minutes.  It should be al dente – be very careful not to overcook since it will get mushy and disintegrate.  Pour into a strainer and rinse very well with cold water.  Shake off any excess water and put in a small bowl.  Add a small amount of the dressing and mix.  It should be just enough to coat the pasta – don't soak it!
In a large, wide bowl place baby spinach about a third of the way up.  Add the chicken, cucumbers, olives, tomatoes and top with the pasta.  Add a small amount of dressing and toss.  Enjoy!
Serves 3-4
The olives can be found at Whole Foods, Wegmans, and other stores with extensive olive bars.  They are very flavorful and really make this salad, and combine well with this particular flavor of dressing.  If you can't find this dressing at your supermarket, you can order here.