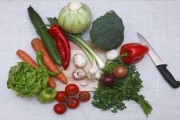 Posted on 26. Jun, 2017 by Healthy Girl in Best Secrets
Here are 10 salad tips for that may help with your healthy way of eating:
Choose the freshest most attractive veggies to include in your salad.  The salad will look better to you and taste fresher.
Start with a good base of greens.  Skip the iceberg and use romaine, arugula, baby spinach and other mixed greens.
Good additions to the greens, are staples like cucumbers, tomatoes, celery, radishes, and mushrooms.
Dice red, yellow and/or orange peppers. They are sweet, add crunch, and make your salad look "pretty".
Add some lightly steamed veggies to "beef up" your salad.  Steamed broccoli, asparagus, green beans and cauliflower work well.
If making a whole meal salad, add a hard boiled egg, some grilled chicken, tofu or leftover turkey.  Occasional use of boiled shrimp is okay.
Add in a surprise ingredient like half a small diced green apple (no dried fruit).
If you use dressing,  add vinegar (not a heavy balsamic if the sugar in it stalls you) and a 1/2 tablespoon of olive oil, or use one of the zero calorie Walden Farms dressing.
You can have Caesar Salad the healthy way – Healthy Caesar Salad
Salad is your best friend for dish to pass, or meal at a friend's house.  This is only if you are bringing it, so you can be careful with the ingredients.  🙂  Be a good friend and offer to bring the salad.
Eating lots of salad will help your weight loss results and should be part of your eating plan for continued good health.