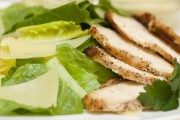 Posted on 07. Apr, 2013 by Healthy Girl in Recipes
Yes, lots of us like Caesar salad and it is readily available for lunch and dinner at many restaurants, and also for takeout at grocery stores.  So, how can we stay on the plan and take advantage of this convenience?  Well, you order it this way:
Hold the dressing, croutons and cheese (and bacon if it is on the menu).
Add grilled chicken, salmon or shrimp (good protein), and specify – no butter or sauce.
Eat naked, or add your own Walden Farms dressing, or vinegar and a little olive oil.
You can leave in the Parmesan cheese if you eat dairy, and are not stalling.
I usually tell them to add veggies (cucumbers, tomatoes, mushrooms).
Check out our other recipe and food ideas here.