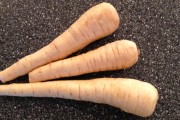 Posted on 21. Jul, 2013 by Healthy Girl in Food Finds
Have you tried parsnips?  Always good to vary your veggies and enjoy a new taste.  Parsnips look a little like carrots, except they are white.  You need to peel them (like carrots) and then you can cut in discs or chunks.  They taste great roasted with a tiny bit of olive oil and salt and pepper, but are also great sliced and steamed.  This is a reasonably priced vegetable that has a long shelf life.  Just store the same way you would carrots.
They taste great and are high in fiber!  We suggest serving in addition to a veggie like broccoli or asparagus. Good for all phases of 24 Day Challenge and beyond.
Click to see the nutritional stats: