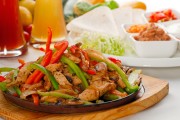 Posted on 13. Sep, 2013 by Healthy Girl in General Info
Perhaps one of the biggest challenges is eating out while trying to stay on a healthy eating plan.  Of course, it really helps when you can control your destiny by selecting the restaurant.  This is not always the case, so this tip is for when you absolutely have to be at an event or restaurant that is challenging.  At all costs, we try to avoid Chinese and Mexican restaurants, but here is the tip on how to make either one work if you must.
At a Chinese Restaurant, if you can order your own meal, just ask for fish, shrimp or chicken and vegetables steamed plain.  Then you can add a tiny amount of low sodium soy sauce if needed, and you are all set.  If they have brown rice (some places do), you can have a half cup of that in addition.  If you are with a group and it is to be sharing, at least get one order of plain steamed vegetables or just broccoli and fill up on that with a tiny bit of a chicken or seafood dish, trying to take as little sauce as possible.  It is tough if you are with a group that orders fried food and noodles, for sure!  Drink lots of water.  No fried noodles or eggrolls or sweet and sour sauce.
At a Mexican Restaurant, it is even more challenging.  No chips.  No tortillas, tacos, burritos, taco salad.  Nothing fried or refried, no sour cream, cream sauce, etc.  Is there anything left?  LOL.   Look to see if you can find grilled shrimp, or order chicken or shrimp fajitas without tacos or tortillas.  You might be lucky to find a place that will give you an order of steamed vegetables, but that is rare.  Ask for very little oil in the preparation if you are getting veggies sauteed (sometimes that is the only choice).
Be strong!  A few moments of eating can sacrifice a lot of hard work.  You've got this!
See Tip #1.