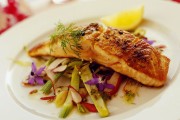 Posted on 24. Aug, 2010 by Healthy Girl in General Info, Recipes, Recipes & Food
I have lots of tips for success when eating out during the 24 Day Challenge.  Today I reveal my favorite meal for eating out in a restaurant during the cleanse or the balance of the 24 Day Challenge.  This works in many restaurants.
Order grilled salmon (or other fish) with no starch and a double order of veggies.  You can add fresh fruit (naked) for dessert if desired.  Here is how I order it.  I ask to have the salmon grilled with no oil, butter or sauce (the natural omegas in salmon keep it plenty moist, and I don't want to risk them drowning the fish in oil or even worse, butter).  I ask to have my veggies steamed with no butter or oil or sauce.   That way you get fresher veggies that have not been sitting in oil in a saute pan.
As easy as this sounds, I was only having 60% chance of getting what I really wanted until I adopted the following strategy.  I tell the waitperson ahead of time that "I apologize that I am going to be difficult", or that "I have have food restrictions", and say I hope he/she can help me out.  This has really helped improve the chances of getting it right, except when the waitress asked me what "steamed" was.  Yikes – no help there!  When I asked her to check after she said there were none, I did actually did get the order.  She pushed a bowl of veggies at me and said " your steamed veggies, ha!"
Remember, it is your choice what you put in your body.  You don't have to eat things that you don't want while you are tying so hard to achieve success and be healthy.