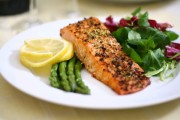 Posted on 23. Jun, 2011 by Healthy Girl in Recipes
6 ounce portions of salmon or other thick fish
Garlic powder
Montreal Steak Seasoning (not the fish or chicken or the low sodium – this one tastes best)
Dried Minced Garlic
Dried Minced Onion
This is how I prepare much of my fish.  Of course, salmon is the favorite.  The natural oil makes it moist and rich, but this will work just as well with other thick fish.
On a plate, sprinkle lots of garlic powder, a tiny amount of McCormicks Montreal Steak Seasoning, and some shakes of dried minced garlic and dried minced onion.
Take your piece of fish and dip the bottom and sides.  On the top, do a layer of garlic powder, small amount of McCormick's Montreal Steak (it has a lot of salt, so be sparing), then some more garlic powder and some minced garlic.
Spray PAM on the grill so it doesn't stick and grill to desired level.
We haven't really added calories per se, but we certainly added flavor.  Yum!
Hints:
1)  The guy at the fish counter will most likely remove the skin for no additional charge.
2)  If you like this, better get the big bottles of garlic powder, etc.  🙂
3)  Great for all phases of the 24 Day and beyond.