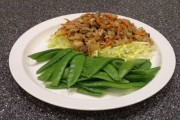 Posted on 01. Dec, 2009 by Healthy Girl in Recipes
If you love the Cool Lettuce Wraps at P.F. Chang, and wondered if you could duplicate something that was lower in fat, sodium, and carbs, and complied with the 24 Day Challenge, this is for you!  This is an updated recipe.
PAM Olive Oil Spray
1 tablespoon Olive Oil
1 pound lean ground chicken
1 large sweet onion
2 tablespoons minced garlic
large knob fresh ginger (peel, then cut 4 slices and mince the rest)
1 cup shredded carrots
1 tablespoons low sodium soy sauce
2-3 tablespoons rice wine vinegar
1 can chopped water chestnuts, drained
8 oz. white mushrooms, diced in chunks
5 oz. shitake mushrooms, diced in chunks
1 can baby corn chunks, drained
salt, pepper
powdered ginger
garlic powder
4-6 packets Splenda
lettuce
Use large nonstick pan, spray well with PAM.  Add minced fresh ginger, garlic and onion.  After 3 minutes add the shredded carrots, olive oil and water chestnuts and stir frequently.  After 5 minutes add the mushrooms and baby corn chunks.
In separate pan, spray PAM, and saute the slices of ginger for 1 minute.  Add the ground chicken and season with salt, garlic powder and lots of powdered ginger.  Cook until done.  Remove the ginger.  Add the chicken to the veggies.
Add the Splenda, low sodium soy sauce, rice wine vinegar, salt, pepper, and very generous amounts of garlic powder and powdered ginger.  (This is key to having the dish nice and spicy so it marries well with the cool lettuce.)  Mix well and heat for 5 minutes.
Serve the spicy chicken in lettuce leaves as wraps, or on top of shredded lettuce.  Serve with steamed snow peas or vegetable of your choice.
Serves 4.
This recipe is acceptable for all phases of 24 Day Challenge.