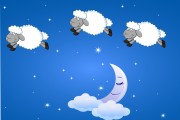 Posted on 10. Jun, 2012 by Healthy Girl in Best Secrets
Can you relate to Sleepless in Seattle?
We have all read the articles and heard the reports about the impact of sleep on weightloss.  A problem that I had was that I couldn't fall asleep or stay asleep very well and knowing that I needed the sleep didn't help me relax!  I did not want to try any sleeping pills or anything that would make me groggy since I work out early in the morning.  I have put some effort into improving and these are my top tips for better sleep:
Try to go to sleep at a set time.
Have a cool room.
Make sure that it is very dark (I always would sleep well in a hotel room with blackout curtains).  I found a clockradio at Brookstone that allows you to turn the annoying blue or green light off (not just dim it).  You just press a button if you need to know what time it is.
Don't eat close to bedtime.
Don't drink a lot before bed.
Invest in a super comfy pillow and good linens.
Try SleepWorks.  When Advocare introduced this product last year, I tried it immediately and fell in love.  I bought 6 boxes the next morning.  🙂
Get enough exercise!
Do you have any tips to add to the list?
Get some more sleep and see it help your Advocare results.