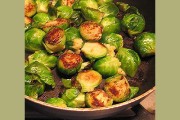 Posted on 27. Oct, 2009 by Healthy Girl in Recipes & Food
1 lb. brussel sprouts
Pam spray (olive oil flavor)
Olive oil
salt, pepper
garlic powder
Clean and cut the brussel sprouts in half. Steam in microwave for 3 minutes.
In non-stick pan, spray Pam. Add brussel sprouts, 1/2 to 1 tablespoon olive oil.
Add salt and pepper and lots of garlic powder. Mix well.
Cook over medium heat until the edges of the brussel sprouts are brown. Lower heat for last 5 minutes.