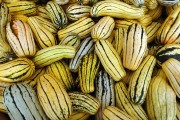 Posted on 28. Oct, 2009 by Healthy Girl in Recipes & Food
2-3 small Delicata Squash
Pam Spray (olive oil flavor)
Olive oil
Salt and pepper
Preheat oven to 450°.
Clean the squash, but leave the skin on. Cut in 1/3 – 1/2″ slices like little half moons.  If you are fortunate enough to live near a Wegmans, purchase 1 package already prepared for you.  LOVE LOVE LOVE Wegmans!
Spray a glass baking dish with Pam.  Put the squash, 1 tablespoon of olive oil, salt and pepper in pan.  Toss to coat the squash, then arrange in single layer.  Bake at 450° for 30 minutes.  This is great served with a steamed vegetable and some lean protein.