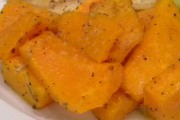 Posted on 31. Oct, 2009 by Healthy Girl in Recipes
2-3 cups cleaned and cut butternut squash
Pam Spray (olive oil flavor)
Olive oil
Salt and pepper
Crushed dried rosemary
Garlic powder
Preheat oven to 450°.
Remove the skin and clean the squash.  Cut in  1/2 – 3/4″peices.
Spray a glass baking dish with Pam.  Put the squash, 1/2 tablespoon of olive oil, salt and pepper, garlic powder and rosemary in pan.  Toss to coat the squash, then arrange in single layer.  Bake at 450° for 30 minutes.  This is great served with a steamed vegetable and some lean protein.  The dinner below has a 3 ounce tilapia filet and steamed broccoli in addition to the butternut squash.