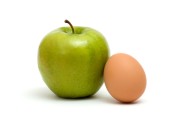 Posted on 24. Oct, 2010 by Healthy Girl in General Info
As a frequent traveler (both road and air), I have developed many tricks to be sure that I don't negatively impact my Advocare routine, and I can do the entire 24 day Program while traveling.  To be honest, I am pretty much on the 14 Day Plan permanently!
The biggest thing I can tell you is to plan.  Winston Churchill said "Failure to plan is planning to fail" and that is soooo true!  I can never be sure that I will be able to get the food that I need, so I always have supplies with me that allow me to get through any situation.
If you look in my suitcase, you will find a shaker bottle (Advocare, of course), meal replacement shakes, packages of muscle gain, Spark, SLAM, meal replacement bars, fruit and fiber bars .  Also, MNS packs, Catalyst, Thermo Plus, Probiotic Restore, and Omega Plex.  You will see lots of the 100 calorie bags of raw almonds (unsalted) that you can buy in a big green box at BJs, and some fresh fruit.
You will find a smaller stash of some of the above in my carry on bag.  Airports are one of the worst places to eat.  Be careful because the SLAM has to be with your liquids for going through security.
In restaurants, you can always ask for hard boiled eggs and fresh fruit, grilled chicken and fish without sauces, steamed veggies without butter. Don't rely on the menu alone.  Be sure to ask for what you need, and don't be intimidated.  It is your health!
If I am traveling by car, I frequently pack a cooler with everything I need.  I try to get a fridge at the hotel, so I can keep cold water, fruit and other food.
Do you have any tricks to share with us?
Sidenote:  On the cleanse, no bars or meal replacement shakes.  🙂