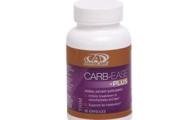 Posted on 30. Mar, 2012 by Healthy Girl in Best Secrets
We all aim for being on plan 100%.  Because real life happens, my insurance policy, Carb-Ease Plus, is always in my purse.
Carb-Ease Plus is a remarkable Advocare supplement that prevents the breakdown of carbohydrates by inhibiting the digestive enzymes used to break them down.  Carb-Ease has ingredients that inhibit the breakdown of fats and selected carbs so that the body is less likely to absorb them.   It also helps maintain weight and healthy blood glucose levels by reducing the negative effects of excessive carbohydrate consumption.
We are not suggesting that you eat a bunch of carbs and wreck your eating plan, but we also know that real life happens, and we hope that you are able to maintain your plan 90% of the time.  In the instance where you are not able to do that, be sure to take 2 Carb-Ease Plus before you indulge!