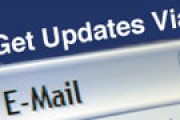 Posted on 15. Aug, 2011 by Healthy Girl in Best Secrets
We now have an email program that allows you to be notified when we update with new information.  Click on Get Updates via Email on the right or sign up here.  Be sure to look in your email (be careful sometimes this goes to junk mail) to click on the link to confirm.
In honor of our new program, we are sponsoring a contest.  Once a month, we will pick a new subscriber who will win a nice box of Advocare samples.  You never know what you will win… samples of all types including bars, drinks, and even a cleanse or 14 Day Kit could be in your box.  All people who subscribed previously will be entered automatically to the first 2 drawings.
Thanks for your interest!