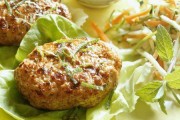 Posted on 22. Nov, 2009 by Healthy Girl in Recipes
1 lb ground turkey
1/2 cup shredded zucchini
onion powder
garlic powder
cayenne pepper
salt & pepper
1 red bell pepper chopped
1 sweet onion chopped
1/4 cup Red Hot Wing sauce
Mix gr turkey, zucchini & all seasonings (to taste)
Put some olive oil in a frying pan & get the pan hot. Make 4 thin burgers & add to the pan. Toss in red peppers & onions. Add Wing sauce. Cook 3-4 minutes on one side then flip your patties. Finish cooking until done.
Serve over generous stack of lettuce leaves. Enjoy!
Thanks for the recipe, Deanne!
This recipe is acceptable for all phases of 24 Day Challenge.